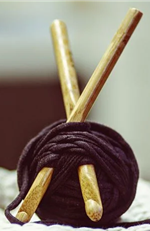 Sunday, October 11, 2020, was "a very blustery day," indeed, but that didn't stop the Zoom Craft and Laugh meeting. TimeBankers Dorothy Cohen, Jan DeCourtney, Lisa Dicksteen, and Gail Wagner spent a lovely and productive two hours together.
Jan wrote out some long delayed sympathy and thank you cards and did some mending. Dorothy worked on one of her wonderous quilts and gave Lisa some advice on an upcoming quilting project. Gail worked on weaving a yummy-looking mohair and linen scarf, and Lisa had lunch. (Things have been hectic and most of her crafting stuff is in storage, but she wanted to visit with everyone.)
Why should you think about joining us next time? Because it's fun! And it's a great way to get to those projects you've been postponing. Are you working on a gift? Do you have mending that needs doing? A broken vase that needs to be jig-sawed and glued? Embroidery? Knitting? Scrapbooking? Polishing your nails? (What?! It's creative.)
Craft and Laugh is a great motivator. What could be better than working and chatting and exchanging ideas about future projects while you get something you've been putting off completed.? And, if you don't have anything to work on, just drop in for the conversation and maybe you'll become inspired.
If you're stuck on a project or something just won't come out right, those who have skills in that area are happy to offer suggestions and help (so far, we have had knitting and crocheting experts, but we never know who will join any given event).
The next meeting is scheduled for Sunday, November 15 from 3:00 to 5:00pm. The Zoom link will be posted in our MeetUp! If you have questions, contact dorothy_cohen@q.com.